USB ELM327 V1.4 OBDII scanner does all of the hard work of protocol translation into a simple ASCII character based view.ELM327 V1.4 is used as an interface to connect virtually all OBD-II compliant vehicles to a PC for on-board diagnostics (OBD) Via the included serial cable. Such vehicles are VW, Audi, Seat, Skoda, Opel, Vauxhall, Alfa, Mercedes, Smart, Renault, BMW, Peugeot, Citroen, Lotus, Ford, Rover, Aston Martin, Ferrari, etc.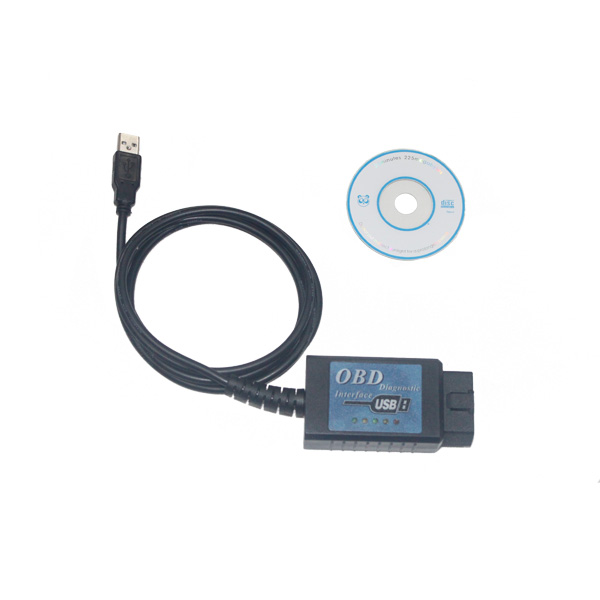 ELM327 V1.4 Feature:
USB ELM327 V1.4 supports 9 protocols in all – SAE J1850 PWM, SAE J1850 VPW, ISO 9141-2 and ISO 14230-4 as well as CAN Bus ISO 15765-4.
Precision-moulded diagnostic connector made to fit all VW/Audi vehicles, even those with "tight" trim around diagnostic socket.
USB port design.
Internal EEPROM can remember the last protocol.
Voltage input monitors your vehicle's battery.
New for USB ELM327 V1.4:
General Items:
RS232 baud rates to 500 Kbps
Adaptive Timing automatically adjusts ST timeouts
Power up to AT MA is selectable
Source (tester) address can be changed
Can reset all PPs with a jumper
Receive addresses can be independently set
Power Control with a low power standby mode
A 4800 baud ISO option
A non-volatile memory location for storing user data
CAN extended addressing support
You can now perform ISO/KWP bus initializations without having to send a request
An SS command allows searching through the OBD protocols sequentially
A new TA command allows the Tester Address to be easily changed
Factory calibration for the voltage reading circuit can be easily restored
J1850:
Complete control over in frame responses (IFRs)
Delay before protocol 2 helps with some GM/Holden vehicles
ISO 9141 and ISO 14230:
The slow initiation address can now be varied
Control over key word checking
KWP protocols can now transmit 3 or 4 byte headers
CAN:
New J1939 protocol
Two user-definable CAN protocols
Improved error handling and recovery
Extended addressing support
Related ELM327 introduction: ELM327 1.5V USB CAN-BUS Scanner