Launch EasyDiag is the device which can turn ios system or android system into a powerful diagnostic scan tool.Launch EasyDiag can give the technician full access to Engine, Transmission, ABS (Brakes), SRS (Seatbelts and Airbag) systems and more. A highly intuitive menu guides technicians through step-by-step procedures for viewing and clearing trouble codes, along with the ability to view enhanced live data. Full color graphing for OBD II is also available.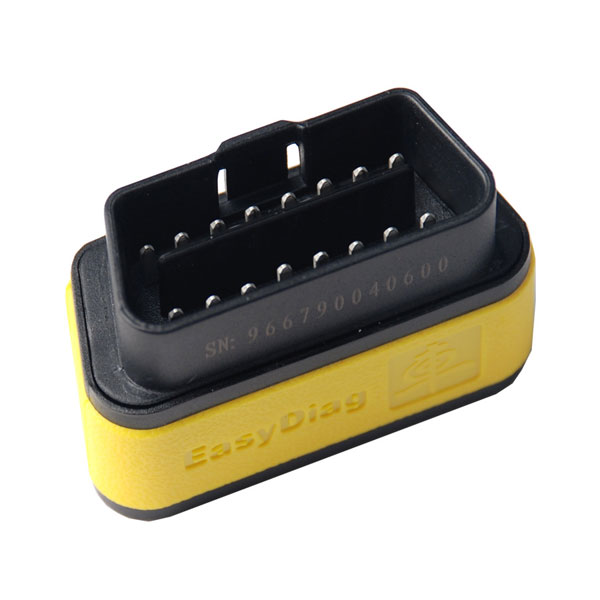 Launch EasyDiag Features:
1. Full OBDII generic code reader/scanner capability included at no charge
2. Read and clear codes on all vehicle systems
3. Complete system and subsystem coverage (engine, ABS, SRS, transmission and more) with live date and color graphing
4. Enhanced live date and for all vehicle system
5. Includes Bluetooth OBDII connector-optional extension cable available for easier plugging and unplugging of OBDII connector
6. Intuitive interface and easy to use
7. Customizable software-choose from over 70 Asian, European and North American manufacturer for enhanced capability
8. Single carline software priced individually per vehicle manufacturer Additional coverage, capabilities and functions with each new software update
Launch EasyDiag support vehicles:
USA:
BXGM, CHRYSLER, GM, USAFORD
European:
AUDI, BENZ, BMW, CITROEN, DACIA, EUROFORD, FIAT, GAZ, GMSA, JAGUAR, LANCIA, LANDROVER, MINI, OPEL, PEUGEOT, PORSCHE, RENAULT, ROMEO, ROVER, SAAB,
SEAT, SKODA, SMART, SPRINTER, VAZ, VOLVO, VW, FORD
Aisan:
ACURA, DAEWOO, DAIHATSU, HOLDEN, HONDA, HYUNDAI, INFINITI, JPISUZU, KIA, LEXUS, MAHINDRA, MARUTI, MAZDA, MITSUBISHI, NISSAN, PERODUA, PROTON,
SSANGYONG, SUBARU, SUZUKI, TATA, TLISUZU, TOYOTA
If you are interested in this Launch EasyDiag please send Email to

sales@uobdii.com

to learn more.